NAMAACHA
Tour number is M01
Namaacha is the border post to Swaziland. The 79-kilometer long road to and from Maputo is in good condition, is has been restored in 1996. At the border you wil find a colorful small market and diferent bars where cold drinks and food are available at cheap mozambican prices.

CYCLING TO THE WATERFALLS NEAR SWAZILAND
Lets go back to colonial time and visit the countryside where portugues used to spend their weekends and spare time. The waterfalls of Namaacha are there throughout the whole year, and in winter times they are stronger. Nostalgique picknick places made of wood and stones are build on elevated places with panoramique views. There you can walk down the rocks along the river and enjoy the astonishing hills which sourand you

We start our cycle trip in Maputo very early in the morning, because at 5 am the sun is already shining. We are accompanied by a car with food and drinks, first-aid kit and change/technical equipments.

The landschape changes every km. First, green with high trees and we cycle in de shadow trought Boane. Then the hotter savanna planes with its own dry grass smels and at the end small hills with beatiful flowers and wild plants between rocks. The botanists among us shall be surprices by watching this Afrika.The local people which are not used to see tourist on bicycles are frindly. They live in traditional houses spread in de countryside far from eachother. They like space and why not, Mozambique is zo big an beautiful! We wil make several stops on the trip to rest and make lovely view pictures. And who knows maybe we wil be invited to visit a mozambican familie. At the end we reach the waterfalls .
We have a stopover at the Hotel in Namaacha, before returning to the capital city.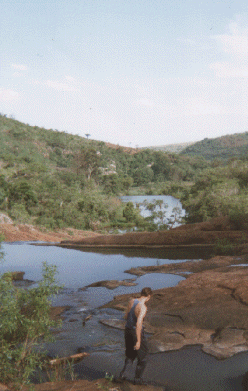 ---
| Back to main page |